Every new day, I create a new level 1 header with today's date and start planning the day. I have a snippet, called daily, that expands to a big checklist of my daily routines. So far I got this: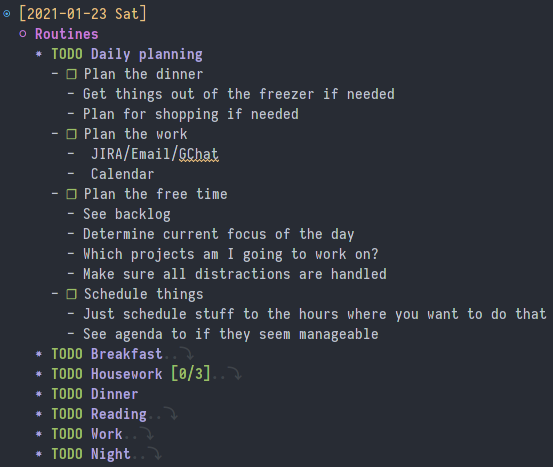 I use clocking functionality to keep track of how much time I spent on doing stuff. So I just start clocking on the Daily planning TODO item. I'll show how I utilize this later in the post.
The screenshot does not reflect all the things I had in my daily snippet but it's rough estimate. As you can see, I left little clues for myself in the Daily Planning header and all the other headers have some predefined directions for me. For instance, Breakfast header reminds me to take my daily supplements (so that when I do my breakfast and open bullet.org to mark it as done I just remember my pills), Housework has some predefined works that I need to do, like washing dishes etc, Reading has a link to my reading list (which is just another org file) and to my current readings so that I can recap what I was working on. Little conveniences like that. I just remove what's not related to this day while I'm going through the headers, like today's a weekend and I do not need to worry about work stuff so I just remove those check boxes.
One minor anecdote about these notes: Since I added the Plan the dinner part to Daily planning header I started cooking at home even more regularly. Before that, I was thinking about the dinner once I get hungry and because of multiple reasons (like being hungry at that moment, not having enough ingredient to do something) I would just go ahead and order something. Cooking is pretty disciplined activity and planning makes it easy.
As my habits/routines change, this daily snippet also changes. Important thing is you should be able to do this relatively easily. I have some shortcuts to quickly access my snippets and edit them. Just to note, I use yasnippet for the snippets.
The reason for having all of these routines under a header called Routines instead of expanding them right under the current days header is to keep my daily view clean and uncluttered. See next screenshot.
So when I finish planning, I just clock out:

And this is what the whole day looks like after planning:

Right now, it's weekend and there is nothing related to work here. When there is work items, I just tag them with work tag, so that I can do just hide/show work-related and non-work-related pretty easily. Other than this case, I don't use tags much. Here is an example working day: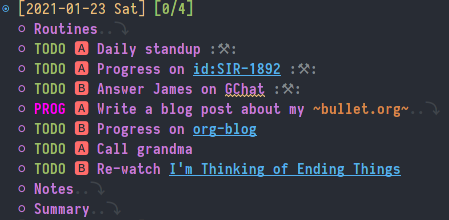 I tend to schedule things to specific hours, so that I can see them on my agenda view and when I sync this files to my phone orgzly sends me notifications before the scheduled time. I don't really use orgzly anything other than this, except using it's pretty widget on my main screen so that when I pull up my phone, the first thing I see is my TODO items.